Strand, the original name in theatrical lighting and a Signify (Euronext: LIGHT) entertainment lighting brand, today announced new capabilities for the Vision.Net Gateway that offer DMX connectivity as well as RDM management and dynamic DMX snapshotting without needing a separate lighting console.
"As LED architectural lighting has become more advanced and architectural luminaires with DMX and RDM have become available, the integration of these fixtures and the entertainment lighting system has become more common and more complex," explains Jon Hole, Global Product Manager, Strand and Zero 88 Controls and Systems at Signify. "That's why we are introducing the Strand Vision.Net 4-Port DMX Interface Gateway Module, an expansion module for the Vision.Net Gateway that allows users to control DMX/RDM luminaires from Vision.Net. We're also adding basic RDM management into the Vision.Net Gateway as well as dynamic snapshotting that brings more movement and texture to architainment applications."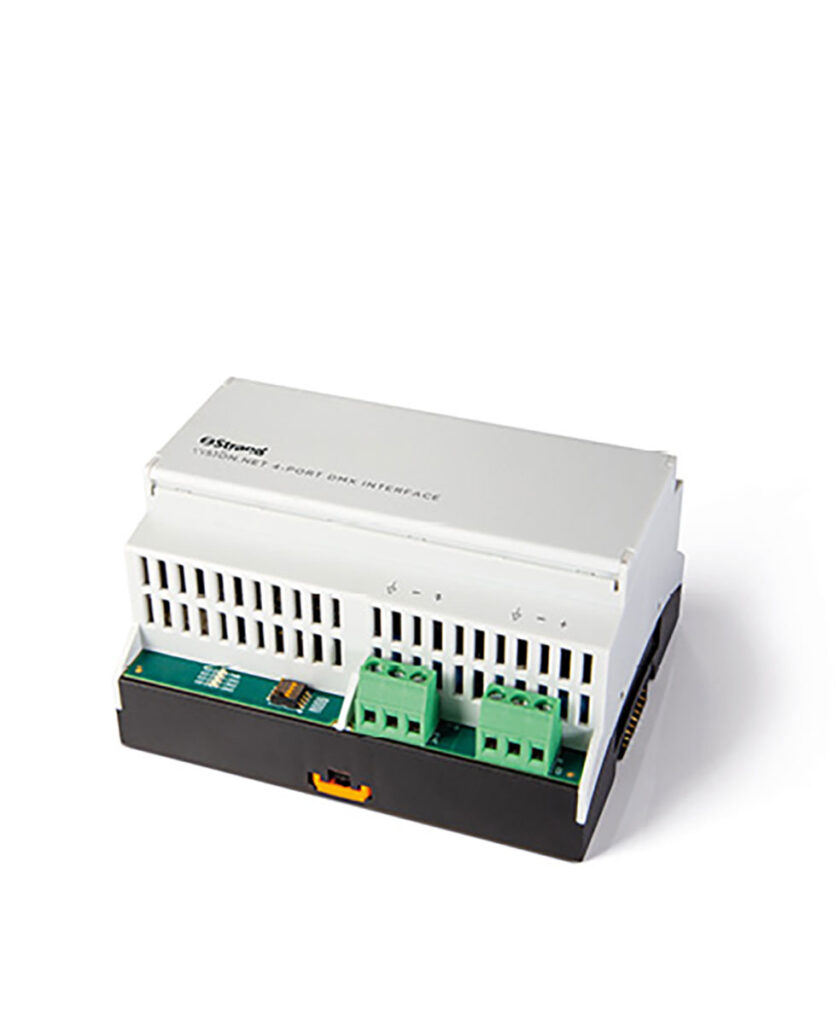 The new 4-Port DMX Interface Module is DIN rail mountable and connects to the Gateway via the integrated 'Gateway BUS', allowing integrators to add four independent, bi-directional DMX/RDM ports to the Gateway without separate power or data connections. And with integrated RDM management, users can discover, identify and manage connected devices, performing tasks such as changing addresses or modes right from the Gateway's web interface.
"RDM is a vital tool to simplify commissioning and management in entertainment applications, but it is even more important for architectural lighting, because DMX-controlled luminaires predominantly do not have any onboard user interface and must be configured using RDM," explains Hole. "The new Vision.Net Gateway update ensures that RDM is available in all systems that use DMX—whether or not a dedicated lighting console is present in the system."
To bring more power to console-free applications, the new Vision.Net Gateway software update also brings dynamic DMX snapshotting, a new feature that allows the recording of a multi-universe DMX stream from Ethernet and/or hardwired DMX. Snapshots capture dynamic lighting looks that include up to an hour of motion, color, shape changes, etc., depending on complexity. The snapshots can then be played back once or looped and can be triggered by a scheduled event or initiated in response to a button press on the Gateway On-the-Go web control interface, a Vision.Net touchscreen or a Vision.Net control station.
"This new update to our Strand Vision.Net Gateway makes it easier than ever to use entertainment luminaires in systems without the need for a dedicated console," adds Fernand Pereira, Global Head of Marketing and Product Management, Entertainment Lighting at Signify. "It can also be used alongside the powerful console options available from Strand and Zero 88, giving customers powerful control and management capabilities in a variety of applications."
Photo: © Signify / Strand Lighting