The Amir Cup Final 2020 Ceremony, the biggest football cup competition in the State of Qatar, and the inauguration Ceremony of Ahmad Bin Ali Stadium, the fourth FIFA World Cup™ stadium to open in Qatar following Khalifa International, Al Janoub and Education City was recently performed using 2 x grandMA3 full-size and multiple MA Network Switches. Qatar Vision Company developed, produced and managed the inauguration and final, that took place during Qatar National Day and exactly two years before the country hosts the FIFA World Cup final. Mohammad Assaf and Mark Anton were the lighting designers.
Because of strict health and safety protocols, Ahmad Bin Ali Stadium was only allowed to reach approximately 50% capacity when it hosted the final. Due to COVID-19 restrictions, tickets for the final were being limited to one per person and were linked to the holder's Qatar ID. Following discussions between the Qatar Football Association (QFA) and the Ministry of Public Health (MOPH), any fan who attended the match had to return either a positive COVID-19 antibodies test or a negative COVID-19 test prior to being allowed access to the stadium. Social distancing measures were also implemented within the vicinity of the stadium, including the fan zone and on public transport.
The opening ceremony concept and creative treatment was created by the Qatari artistic director and producer Sharif Hashisho, who is also the managing director of Qvision. Hashisho is widely known for his previous work as a director of ceremonies for the 15th Asian Games and director for the 17th Gulf Cup, as well as the artistic director and producer of the IAAF World Athletics Championship in 2019.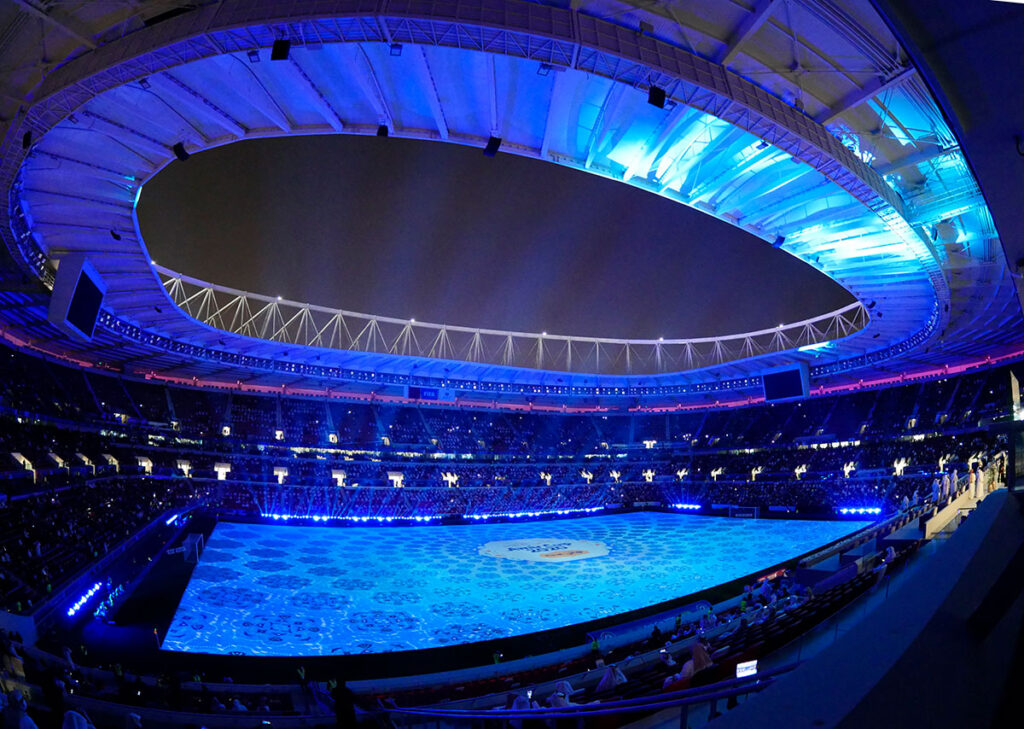 The opening ceremony concept and creative treatment for the inauguration Ceremony of Ahmad Bin Ali Stadium were inspired from the Arabic Poetry. The opening ceremony show was all about showcasing a poetic riddle presented through a poetic dialogue between two famous Qatari poets.
Based on the opening ceremony concept and creative designs made by Hashisho, Qvision fulfilled all the technical requirements for the show to make it a true spectacular one for both the stadium and TV audience. Besides many other fixtures the MA system was in control of 150 moving lights.