Walking is exercise for the soul, or so the ancient philosophers advised. The wisdom of these words ring true for anyone who has traversed the winding roads and paths of this medieval town. Rich in history, culture and natural aesthetics, they allow one to cover not only distances, but also realms of imagination.
During the pandemic, when so many activities have been cut off, the municipality of Herentals made its magical streets even more inviting to walkers by adorning them, as well as some of their most beautiful landmarks, with richly textured lighting displays created by The Creative Factory (TCF) with CHAUVET Professional fixtures.
Kristof Van Mensel, lighting designer for TCF, expertly deployed Maverick and COLORdash fixtures, supplied by Studio Haifax, throughout the city of Herentals and the adjacent towns of Morkhoven and Noorderwijk. In the process, he created "an atmospheric walking environment" for locals and visitors alike.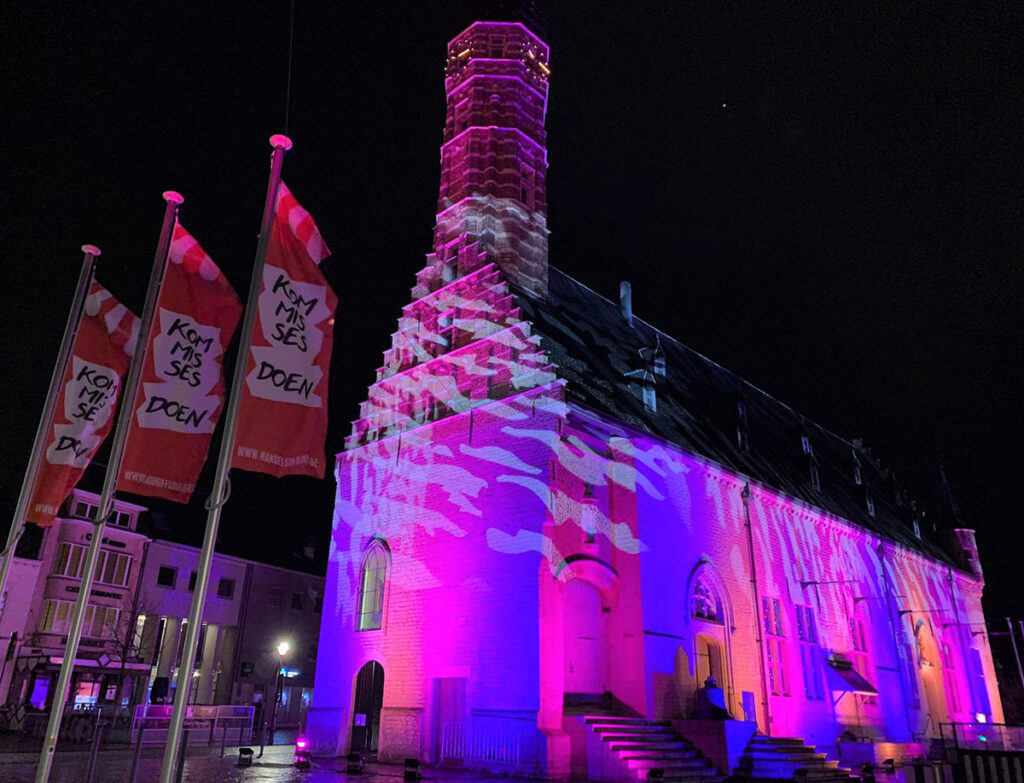 Among the highlights of this walking panorama was the illuminated Lakenhal ("Cloth Hall") an impressive structure dating back to the 15th century in the city center. Once the heart of the region's thriving textile trade, the sandstone and brick building features a 35-meter high octagonal belfry with a clock and belltower to its north, and a historic statute commemorating the "Farmers War" to its south.
Van Mensel and his team used some of their 18 Maverick MK3 Profile fixtures to accent the distinctive architectural features of Lakenhal and dramatize its towering belfry. With its vivid gobo patterns set against bold color washes on the building itself and more subtle hues at the top of the tower, their design led people to see this familiar landmark from a fresh, new perspective.
The remaining Maverick MK3 Profile fixtures were used to create a compelling light-scape on the historic church in the town of Morkhoven. "We created very attractive gobos that showed up well on the church's walls," said Van Mensel. "Our goal was to add new dimensions to the buildings, while being true to their historic character and remaining always in good taste."
A little further away from the city of Herentals is the town of Noorderwijk with its enchanting, historic castle. Here, Van Mensel wove his lighting into the surrounding area to create an all-encompassing tapestry of patterns and color.
"In Noorderwijk we used over 100 COLORdash Par H12IP fixtures to illuminate trees in the area surrounding the castle," said Van Mensel. "We also positioned these fixtures along the land around the castle, which gave us a beautiful atmosphere."
The one kilometer path leading up to the castle is a favorite course of dog walkers and joggers, noted Van Mensel. By transforming this familiar route with light, he converted it into one that stimulates the heart and soul as well as the body – exactly the form of exercise that the ancient philosophers had in mind.