It may well go down as one of the most moving live music moments never seen. At the conclusion of the We Love NYC: The Homecoming Concert, after a bountiful feast of big looks, New York's own Paul Simon was to take the stage to sing "The Boxer," lit only by a soft tungsten glow.
It would have been a very special scene, notes Tom Kenny, lighting designer for the start-studded Central Park show, one that he, like some 80 million TV viewers who tuned into the concert, would have loved to have seen had the show not been called off early due to lighting strikes associated with the approaching tropical storm Henri.
In addition to canceling Simon's performance, the weather washed out appearances by Bruce Springsteen, Cynthia Erivo, Elvis Costello, Patti Smith, Maluma, and The Killers among others. Still, there was much about the evening to celebrate. Over half the Live Nation concert, which was produced by Diversified Production Services, Done + Dusted, and Clive Davis, was completed, providing a beautiful and uplifting celebration of the city, it's creative drive, and live music's journey back from the pandemic.
Providing a captivating visual backdrop for the spectacular show, was Bruce Rogers' bold set, along with a massive lighting design by Kenny that featured over 600 fixtures and 108 IP video panels from CHAUVET Professional that were supplied by 4Wall Entertainment.
"As a fan, I would have loved to have seen this concert take place in its entirety, but the evening provided us with so many wonderful memories as it was," said Kenny. "The artists who performed were wonderful as were those who were unable to appear. The Killers, who didn't make it to the stage, did an acoustic version of Mr. Brightside in their tent after the show was canceled.
"Then there were the people of New York who were singing songs from the show in the subway as they left," continued Kenny. "And of course there was the park and city itself. We also had a lot of great times interacting with New Yorkers during set up. Our crew from 4Wall was absolutely wonderful. The storm just reminded us that no matter how big we are – or think we are – Mother Nature is always bigger!"
For Kenny, the storm also provided a convincing real world demonstration of the weather resistant qualities of the CHAUVET Professional fixtures in his rig. "We had hundreds of fixtures and 108 F5 IP video panels and not one failed," he said. "This was something, considering we had a rainfall of historic proportions."
Particularly impressive to Kenny was the resolution of the 248 IP65 rated COLORado Solo Batten units that were used to light the impressive NYC lettering that spanned most of the giant stage. "This was Central Park, a very big place, and no matter where you were, you could make out the LEDs on the sign crisply and clearly," said Kenny. "Originally, we were considering another fixture for its resolution, but selected the COLORado because of the IP rating. However, the resolution of the COLORados was excellent."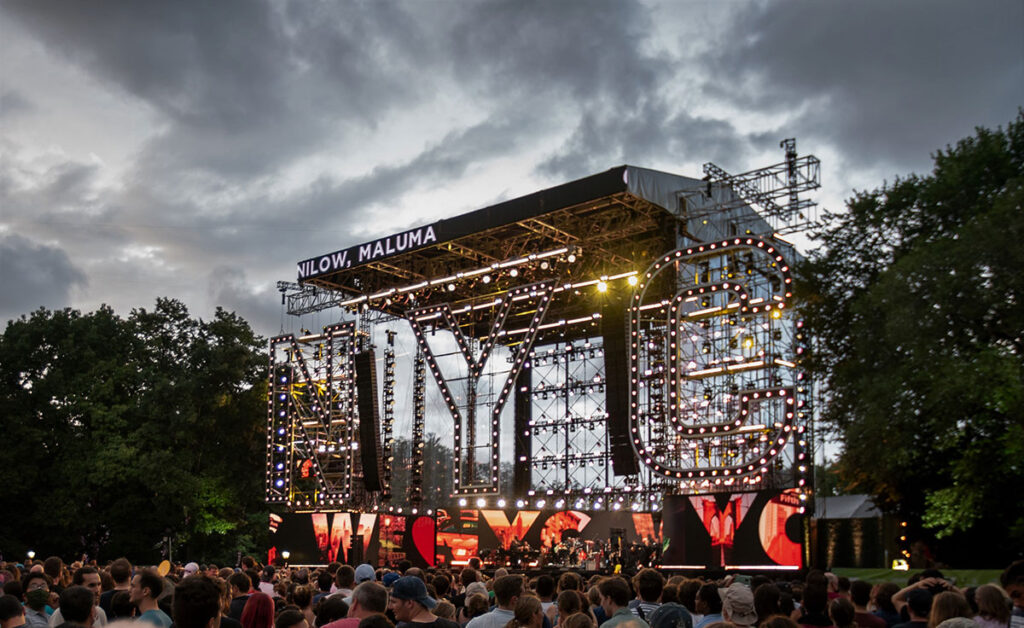 The trim of the concert stage was 75-feet. Kenny took advantage of this by creating a variety of immersive washes with the 81 Maverick Storm 1 Wash fixtures and 68 Maverick MK3 Wash units that were hung along rows of truss across the back and on either side of the stage. He also used these fixtures, along with a collection of Rogue movers for audience lighting. A group of 60 battery powered, IP65 rated WELL Fit uplighters were used to lend mood-setting colors to the stage.
Arranged in a horizontal band that ran across the stage deck, as well as on a band across the top of the towering truss structure, the F5 IP video panels, displayed a variety of images in addition to identifying artists.
"We kept the show big but also intimate to reach those at the park as well as the millions of TV viewers," said Kenny. "My goal was to create massive pictures and add big cues that would connect to crowd at the park, but also translate well on television screens. We did a lot of my signature side lighting, since this is New York, so we wanted to have some theatrical looks. Another thing we did is ask every artists to wear light and bold colors, so they showed up better. We told them to be their own light show with their outfits. That all worked out wonderfully."
Also working out nicely was the setup, which took place over a five day period, despite the limitations of putting together a show in Central Park, where crews have to wait after 9 pm and leave the site by 5 am.
"This was a historical event in preparation and in quality and experience. I'm very fortunate to surround myself with the best and most talented people and companies," said Kenny. "I was supported throughout this project from the main core A list crew and 4Wall's Bob Suchoki's service, to the follow spot operators. Katherine Borderud, our young FOH LD also did a great job as did lighting director Jason Uchita, Mike Appel, David Convertino; lighting lead Alex Flores and the rest of the crew."
On a personal note, Kenny was happy to be helped on site by his daughter Grace Kenny, noting that having her on hand made the experience even more special – and that's a good feeling that no storm can rain on.
Photo: © Skye Morse-Hodgson