England's Enlightened Lighting Ltd sparked up its stock of VL10 BEAMWASH and VL2600 Series luminaires from Vari-Lite – a Signify (Euronext: LIGHT) entertainment lighting brand – for the Bath Festival Finale Weekend in August. One of the first major music festivals to take place in the UK after the pandemic lockdown, it saw favorites McFly, Scouting for Girls and Gabrielle perform alongside a host of big-name bands.
For Dave Thorpe of Enlightened this was the first time their newly purchased VL2600 PROFILE and WASH fixtures and VL10s had graced the stage of a busy festival. Therefore, he was keen to see how they performed and gauge the response from both festival lighting designer Nic Ayres and McFly's visiting lighting designer, Chris Yeomans.
"It was a delight to use the VL2600 WASH and PROFILE fixtures and the VL10 BEAMWASH luminaires on this production," says Ayres. "The colors are great – and although the fixtures can be a bit channel hungry that does make them all the more flexible, which is crucial in a festival situation."
The rig was designed as a traditional Spot and Wash set up with the super bright and versatile VL10 BEAMWASH luminaires taking care of backlight gobos from the rig.
"What is great about the VL10s is that they work as a beam, a wash and as a spot, which is brilliant on such a small stage and with such limited time to program," Ayres continues. "None of the acts bring in any set, except maybe a backdrop. The atmosphere is all coming from the artist and from the lights augmenting the mood of the performance, with a bit of haze thrown in for good measure.
"The VL10s are perfect for on stage gobo or aerial beam effects through haze. To have dual overlaying prisms, an aperture wheel, rotating gobo wheel and an FX wheel in such a compact and bright fixture is a real achievement. During the day I have been using the overhead VL10s in full zoom and they still fill a gap and read well in sunny daylight, which is impressive."
Ayres used the VL2600s as key light and spectacular effects for the audience: "Prior to this festival I had not used Vari-Lite fixtures for some time, but I have not been disappointed," he says. "There is something that little bit 'posher' about the Vari-Lites. They feel richer and they look and feel expensive."
McFly lighting designer Chris Yeomans comments: "This is the first time I have come across the VL2600s and the VL10s in a festival rig and they are fantastic, I definitely want to use them again.

"The fixtures were incredibly bright, even during the morning's programming session. The standard features, color mixing, gobo selection, prism layering, zoom range, and overall output, far surpassed anything I've used so far this festival season.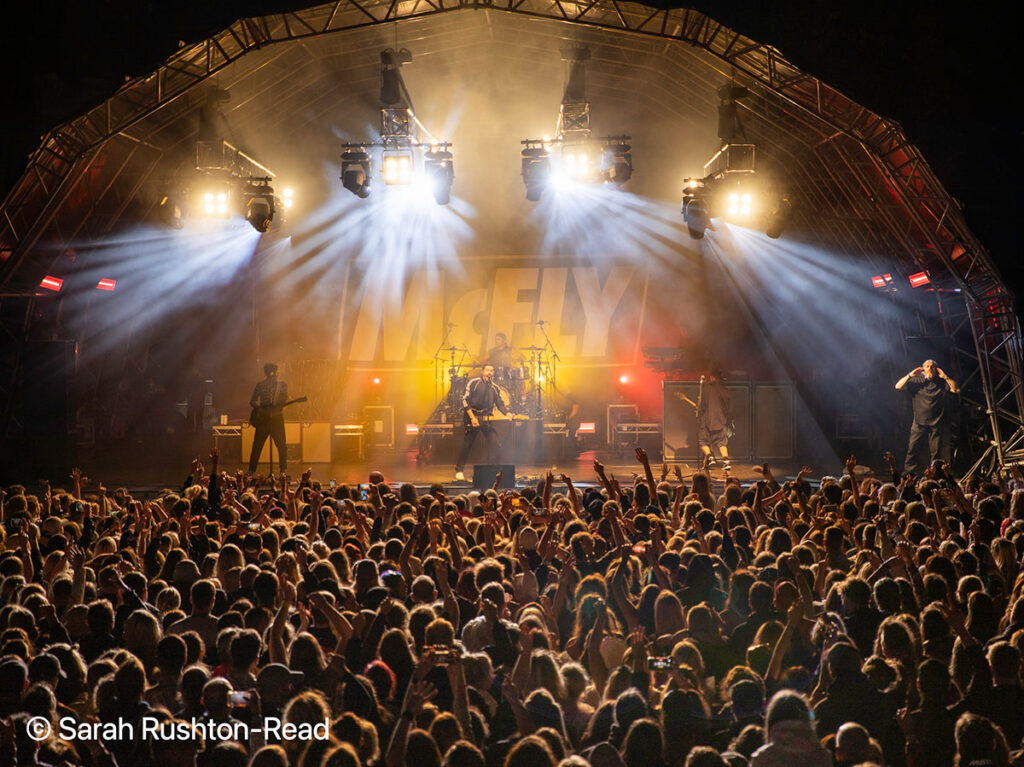 "For me, versatility is key for festival rigs, I prefer having hybrid luminaire cross-over fixture types, such as wash beams, as they make for a more interesting show by offering a range of effects from one unit. It also makes for a cleaner looking, more uniform rig. The VL10 BEAMWASH and VL2600 PROFILE offered a huge range of possibilities from two fixture types."
Enlightened's Dave Thorpe concludes: "When we bought the VL2600s and the VL10s it was our first foray into the larger moving light market. We looked at a lot of brands, but we wanted something that stood out above the rest. At the demo we were struck by the quality of the fixture build and the quality of light that comes out of the front. As Nic said, it doesn't feel like an LED fixture. We were also influenced by several designers who had called up to tell us how good the VL2600 range is.
"The VL10s are stunning, ridiculously bright, do the job well and all have been reliable from the get-go. These are complex, heavy-duty fixtures but once you get a handle on them, there really is nothing else that compares."
The Bath Festival Finale Weekend ran over two days in early August. High-octane headliners McFly reminded everyone present of the value of live music and how much they had missed collectively jumping up and down in a field, in the rain, with friends and loads of people they don't yet know. The joy of all the acts to be back on a stage was palpable and everyone present was a little bit emotional.
Other acts entertaining the crowds included UB40, Billy Ocean, and NYC trio Fun Lovin' Criminals.
Photo: © Sarah Rushton-Read