A cheering crowd of more than 75,000 witnessed a perfectly choreographed Independence Day drone show in the Cincinnati suburb city of Blue Ash, as Verge Aero's technically advanced drones displayed patriotic symbols in the night sky.
Two hundred Verge Aero drones were programmed to deliver a coordinated display, which included a 300ft wide 'waving' American flag as the National Anthem began. Verge Aero's Director of Show Operations, Mason Hayes, piloted the drone fleet, putting expert skills to good use.
It was all part of the much-loved 'Red, White & Blue Ash' show, held at the city of Blue Ash's Summit Park.
Brian Kruse, Director of Parks and Recreation for the City of Blue Ash, says: "The incredible accuracy and scope of the drone displays is something you just have to witness in person. Only then do you realise how large the displays are and the remarkable pin-point accuracy needed to make the shapes move like they do. The ability to time the displays with the simulcast makes for a dramatic and impressive dance between the music and the lights."
Red, White & Blue Ash has been a cornerstone event for the city for more than 30 years. It is now not only a day residents are very proud to celebrate, but also an event that has become important to the entire Cincinnati region.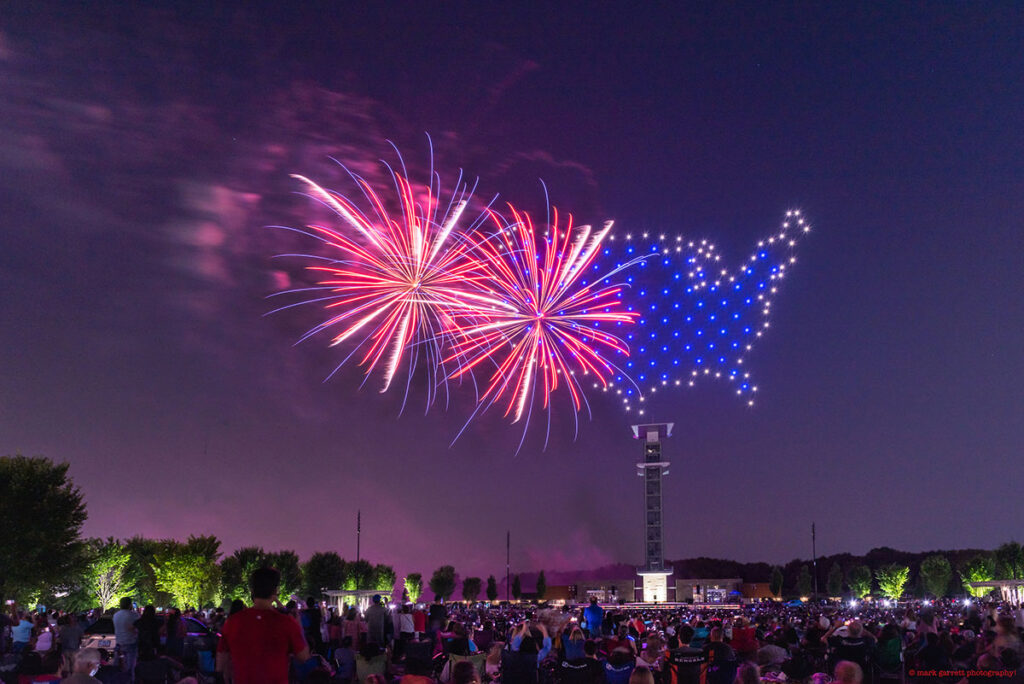 "The crowd's reaction was incredible – 75,000 visitors were impressed in unison," Kruse continues. "Our staff universally felt that this was the best part of the evening. We see technology advancing and drone shows becoming more accessible for event organizers as they reach the mainstream. However, at the time of our show it was something 99% of our audience had never seen in person. It's a great feeling to know that their first drone show was here in Blue Ash."
An impressive fireworks display, which ran in-part concurrently to the drone show, was provided by Arthur Rozzi Pyrotechnics. In addition to the Stars and Stripes, the show saw Verge Aero's drones dart into intricate patterns composed of varying sized circles, double helixes displaying graceful movements mimicking DNA structure, and spheres, spirals and squares forming geometric feasts. Additionally, huge red, white and blue stars, synonymous with America's iconic flag, dazzled overhead. Yet perhaps the night's proudest moment saw the letters 'U-S-A' hit the sky with the acronym re-forming to depict the shape of the country.
Nils Thorjussen, CEO of Verge Aero, says: "The Blue Ash team was looking for an extra element of pizazz, and the drones were it. The firework display was already programmed by the time we were brought on board, so our task was to complement what they were doing while not being in each other's space. The programming tools make it possible to create and fly this content quickly, and our own system is robust, bright and holds its own when near to fireworks."
Kruse concludes: "We had been tracking the development of drone shows over the past five years and felt that it was a perfect time to enhance our offering with a fireworks and drone show. We look forward to working with Verge Aero again in the future. They were great partners, easy to work with and communicated professionally. I'm not sure we could ask for more."
Photo: © Mark Garrett Photography