Over 1,700 miles separate Image Productions Services from Ryman Auditorium, but that didn't matter much on Saturday January 23 when Annie Brobst and The Jake Ash Band took the stage at the improvised livestream studio in the company's warehouse.
Brobst, the New England Country Music Awards Artist of the Year, and Ash's band, which was formed by four firefighters from nearby Brockton, projected an unabashedly, down-home vibe that would have fit right in on Nashville's Second Avenue. Reflecting the cheery mood, Brobst even raised a glass to the audience in honor of her hit "Red Wine On Her Mind."
Contributing to the welcoming atmosphere of the pay-per-view show was a warm and immersive lighting and video design by Darren Lussier and his team at Image Production Services that featured 44 CHAUVET Professional fixtures and a collection of PVPX3 LED video panels.
Seeking to evoke an intimate music club image on their relatively small stage, Lussier had it bathed in deeply saturated colors, broken up by dashes of white light. "Color intensity was important to this show,' he said. "The Rogue and COLORado fixtures gave us that. They created a nice backdrop that was bright enough to be balanced with the video wall.'
Lussier had 12 Rogue R3 Wash fixtures arranged along the upstage edge of the set to provide back washing on the stage and performers. A group of 12 COLORado 1-Quad Zoom tours added to the colorful backdrop.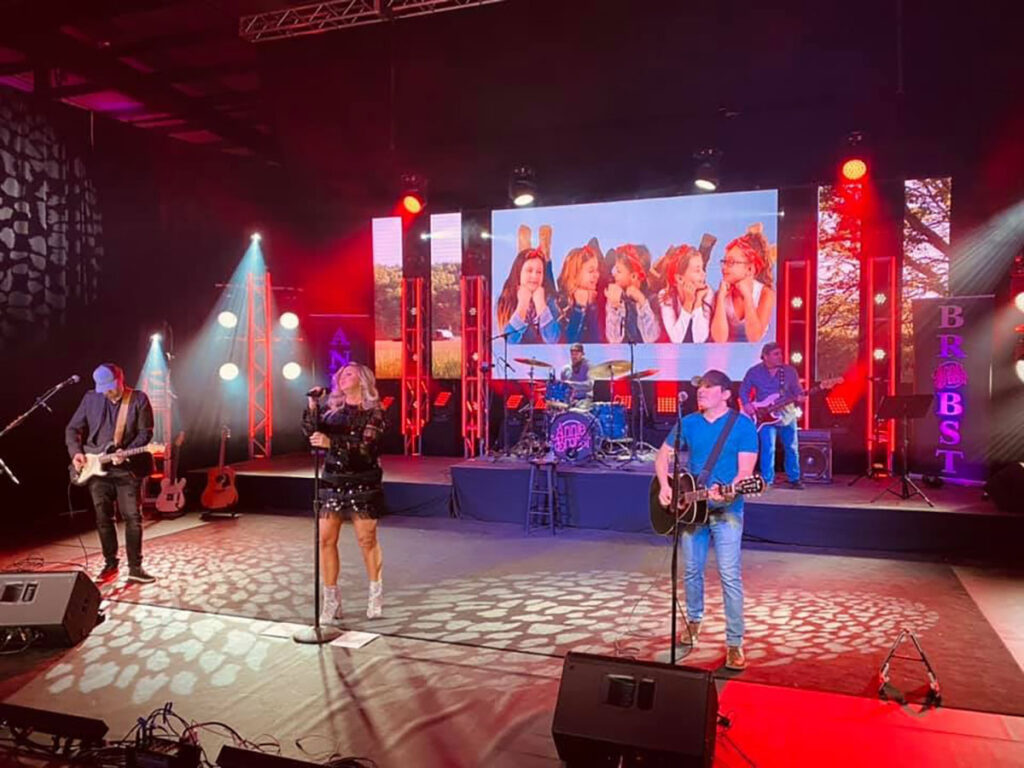 For specials, side lighting, and downlighting, Lussier and his team called on their rig's 12 Rogue RH1 Hybrids, four of which were hung on an overhead truss bar, with the remainder being divided evenly between stage left and stage right totems. The 330-watt mover was also used to texturize the stage and endow it with greater depth by projecting crisp patterns form its rotating and static gobo wheels.
Working in concert with the lighting rig, the video walls that ran across the entire backstage created a live music venue vibe throughout the livestream. The video display was made up of five distinct parts, a central rectangle constructed with 84 PVP X3 panels and four 4'x6′ strips that flanked it, two on each side.
Used to display customized branding images for the artists as well as scenes ranging from bar rooms music venues to natural country settings, the video walls served up camera friendly eye candy while enhancing the show's homey atmosphere. Having the LED wall divided into five sections created more interesting looks and added visual variety.
"It isn't the same experience as a live concert," said Lussier. "But I think we gave viewers the feeling of being at their favorite club."
At this point, that feeling is something all live music fan values, whether they're in Nashville or Nantucket.