As one of the world's busiest opera companies and Australia's largest performing arts company, Opera Australia (OA) presents more than 600 performances around the country every year, with more than half a million people seeing their work on stage and even more tuning into OA's radio broadcasts and cinema releases. In its constant pursuit of artistic excellence and growing audiences through innovative projects, OA's integrated digital technologies were used to transport Davide Livermore's interpretation of Verdi's Aida, a timeless story of love and betrayal, to a whole new level thanks to giant LED screens driven by Brompton processing and deployed by Big Picture at the State Theatre, Arts Centre Melbourne.
A splendid feast for the senses, 175 square metres of UniView Tekken LED screens were arranged in 10 towering LED columns seven metres tall, creating an immersive theatrical experience, with video designs ranging from symbolic pictures to picturesque landscapes of Verdi's world of Egypt brought to life by 4K Tessera SX40 LED processors that conveyed the scale, depth and grandeur of this monumental opera. A fully redundant Disguise system comprising four GX2c servers managed eight 4K content layers as well as dealing with incoming data streams from OA's custom Raynok automation system, which was used for individual screen rotation and tracking on and off stage.
"We originally chose the UniView Tekken 3.9 because it fitted a very particular brief that we had been given from Opera Australia during the design process for the Opera Digital Stage," says Nick Bojdak, Technical Director, Big Picture. "To work with the automation system, it needed to be relatively light per square metre. It also needed to be high enough resolution for still images to resolve like the painted set pieces found in contemporary theatre productions, so the audience forgot that they were watching video screens. Finally, it needed to be robust enough to be built in large pieces for quick change overs between shows. Usually, Speed and High-res LED are mutually exclusive terms, and it is normally a painstaking and delicate process panel by panel, but luckily the Tekken is well built."
With Tekken ticking all of the physical LED screen characteristics the Big Picture team needed for the project, the next step was to employ the highest level of processing power to deliver the required visual quality. "We needed something that worked really well at low brightness. We already had a large stock of ROE Black Onyx 2.8 running on Brompton, so we knew what results we could expect from Brompton when coupled with a good high-res product," explains Bojdak.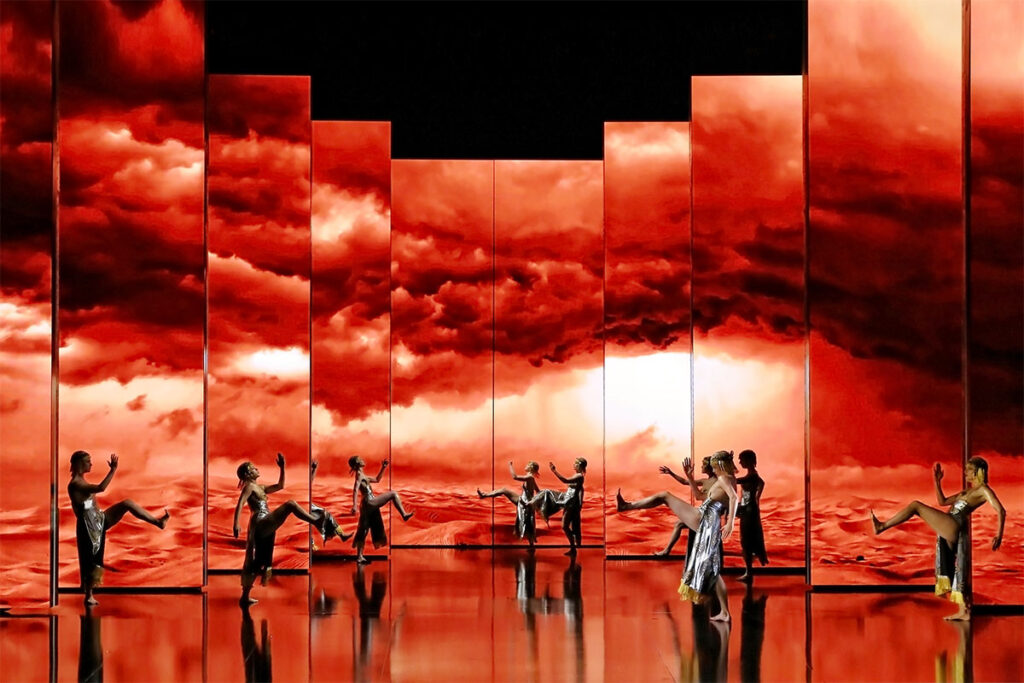 Initially using Tessera S4 LED processing in the first year of installing the digital environment for Opera Australia, Big Picture subsequently migrated to 4K Tessera SX40 LED processors and Tessera XD 10G data distribution units, adding greater output capacity for larger and more complex productions. "The deployment of the XDs via fibre allowed us to decentralise our processing and streamline our system up in the galleries of the Sydney Opera House where space is at an absolute premium. The show currently runs with two SX40s and six XDs as its base configuration. Later in 2021, the system will be expanded considerably for Opera Australia's Ring Cycle production in Brisbane," Bojdak reveals.
Since the initial setup and quality control of the UniView Tekken, Brompton LED processing has continued to impress.
"The reliability that people have come to expect from Brompton products, coupled with a class-leading level of visual flexibility, colour and detail reproduction at low light levels, continues to make them the ideal choice of LED processor for this highly complex project," he concludes. "We are really proud of our ongoing relationship with Opera Australia, and we are excited that we have finally been able to bring the digital stage environment to Melbourne in 2021 after 3 successful years in Sydney.
"Brompton's Tessera processing has proven to be the ultimate tool when it comes to managing LED screens at low brightness, allowing us to get a much clearer and smoother image with enhanced detail in darker areas, achieving unprecedented performance and superior overall visual colour accuracy which completely enveloped the audience in the world of ancient Egypt."
Photo: © Prudence Upton