In its purest form, creative design knows no boundaries. Like a great painting that may appear one way when gazed upon from the left, only to be transformed when the viewer moves to the right, it morphs into different forms that are as varied as the human heart itself. Lighting designer and DOP Gil Perron captured this limitless potential in his work for this year's televised Montreal Pride Festival.
Working with his board operator Jerome Robitaille and TD Eden Ashby, Perron pushed his LSM Ambiocréateurs supplied lighting rig in myriad directions for five different shows videoed over a five-day period in support of a wide range of performances by leading artists from Montreal's 2SLGBTQI+ community. Conjuring up fiery red images worthy of Dante's inferno one segment, his design moved to pure white angelic looks on another, followed by ice blue and cubist representations for other performances.
Through it all, Perron drew on the versatile performance features of 34 CHAUVET Professional Maverick MK3 Profile fixtures positioned on his fly system. "Well…it's no big secret that my go-to light for TV is the Maverick 3 Profile," he said. "It has the brightness, color schemes, gobo package, and, when dialed in, a perfectly nice 4300k with bang on render."
To ensure that his looks remained distinctive throughout the entire festival and reflected the personalities of all performers, Perron generally limited the number of Maverick MK3 Profiles used for each act to no more than four units. Once the profiles were focused and dialed in, the rest of the rig, including its 24 Rogue R2 Beam fixtures and 18 COLORado Solo Battens was "all about effect."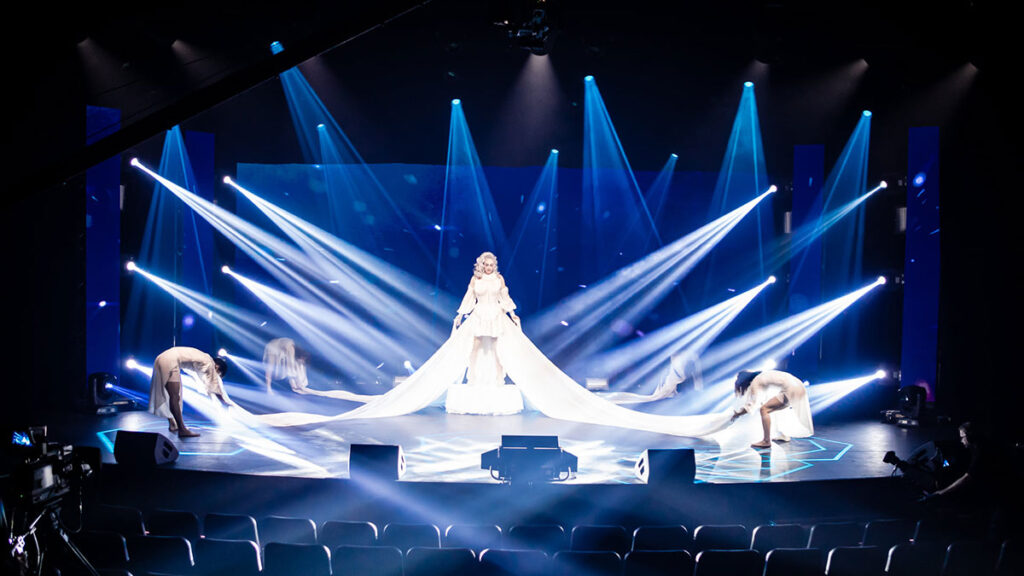 "In order to minimize flip, only the ground packages and video wall designs were modified from show to show," said Perron. "We used the beams to create unique looks with different side angles, and of course changing up colors evoked a range of moods. Gobos from the Mavericks played a big role in adding variety and texture to the stage. I am a big fan of using gobos."
Many of the shows during Montreal Pride Festival were built on boldness and power. This required a level of intensity in the supportive lighting design. Perron achieved this with the help of his high output fixtures and the adroit operation of the shows' boards.
"For this project, the perfect candidate for board op was Jerome Robitaille," said Perron. "His massive experience running EDM rigs was a huge asset considering that most performances were very high energy and required a lot of punch. Jerome is by far the most intuitive board op I have ever encountered and able to deliver custom and stunning looks with minimal time. I was extremely fortunate to be surrounded by talented and dedicated people on this including, not just Jerome, but also festival organizer Jean-Francois and my account execs at LSM, Archie Cifelli and Serge Lachance."
Making it easy for the entire production crew to look good were the performing artists themselves noted Perron, who praised their imaginative performances. Like the lights that supported them, they too proved that there are no boundaries in the realm of creative expression.