Light and set designer Mikko Rahf uses 56 of the wireless LED creative systems to shoot a music video cycle.
The Hamburg indie-pop artist Vivie Ann is breaking new ground. The emergence of her new alter ego, 'Bowie', has been accompanied by four music videos that were created in just two days at the end of July in Hamburg's Oberhafenquartier. In order to give each video its own look, despite the limited time and material resources, lighting and set designer Mikko Rahf called on 54 GLP Creative Light 1 Plus fixtures.
"In the music videos for the songs 'Pale', 'XO', 'Liar' and 'Milk Me' we experience the revival of the character 'Bowie', as the artist will appear from now on," explains the designer. "Under the conditions we faced, I had to come up with a solution to create different looks without making major modifications."
Mikko decided to arrange the band risers in a semicircle and behind them nine pillars, each equipped with six GLP Creative Light 1 Plus. However, he did not distribute these symmetrically, but let the gaps to the left become increasingly larger and larger.
"Because of this one-sided fanning, you could create different images with certain camera shots. So the structure sometimes looked very symmetrical, and at other times the reverse," says Mikko. "In addition, I was able to create 'round'-looking backgrounds from a rectangular 9×6 matrix, and with the help of the well-constructed Pattern mode individual pixels could also be used to create a starry background, for example."
The small and extremely easy-to-install LED discs were controlled wirelessly via the integrated LumenRadio CRMX module with a grandMA2 light control. "At first I planned to run the Creative Lights in single pix mode, which I rejected because of the parameter load. A colleague recommended that I use the Pattern mode instead, which ultimately meant that I only needed two DMX universes."
With 24 individually controllable RGB pixels, the Creative Light 1 Plus system offers countless design options. Whether all pixels are played together, individually via pixel map or via the integrated double layer FX engine, the visual effects are always impressive. The Creative Light 1 Plus impresses with its enormous flexibility, minimal space requirements, space-saving transport and easy storage. Thanks to the extremely fast setup and simple configuration, the Creative Light 1 Plus is perfect for bands, events and every situation where you need to react flexibly and quickly.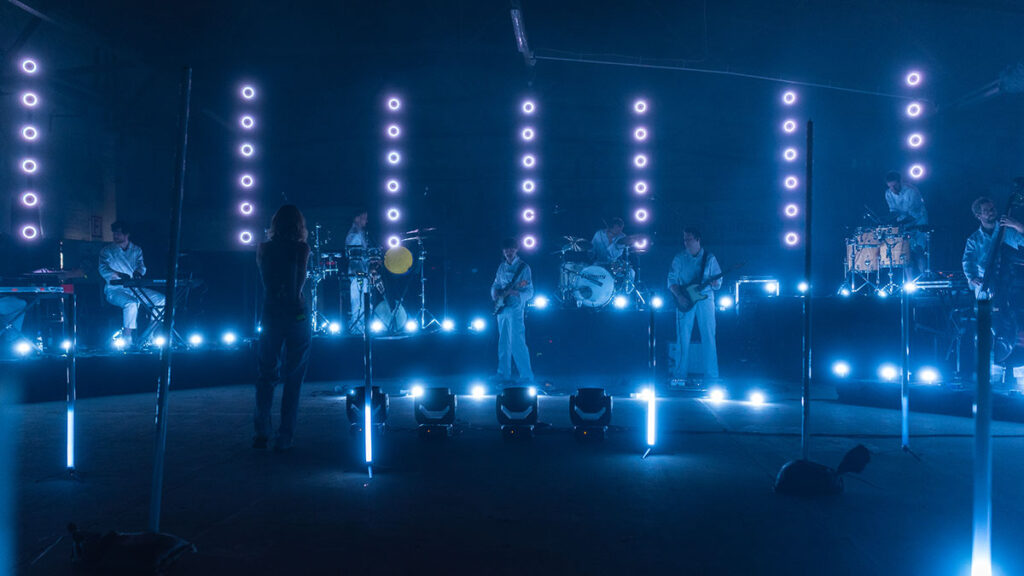 "I really liked the Creative Light 1 Plus," says Mikko. "Unfortunately, we didn't know how much power would definitely be available to us until it was set up. Therefore, I had to plan a variant with as little power as possible. The Creative Lights were configured, installed and quickly collected again at the end of the day for loading. The next day we took them out of the charging cases and reassembled them in next to no time. I didn't have to keep turning it off during the day to save the battery. On the contrary, at the end of a day of recording, the batteries still had a respectable charge level."
When asked in what applications he could imagine the versatile LED solution from GLP being best served, the designer replies: "I see great opportunities in the smaller touring business – wherever there is little space in the truck, trailer, Sprinter or even just in the car, or alternatively venues where there is little power available. Basically, the Creative Lights offer great visual possibilities for everyone who has little time to set up. Last but not least, they would also be a great solution for shows that have to make do without haze and fog. They are wonderful 'no-haze lamps'."
The collaboration with GLP also worked very well, as the designer confirms: "It was a very convivial atmosphere during our discussions. Oliver Schwendke [key account manager for GLP] has also repeatedly taken time for productive exchange with me during the entire production period."
Turning round four music videos in a very short time is quite a feat that cannot be mastered alone. "I would like to say a big thank you to my lighting crew," continues the designer.
"It was a very long construction day and yet everyone was in a good mood and fully invested – above all my valued colleague Alex Erdmann, who did a lot of organisational work for me. Nicky Muthwill, Nikolai Krause and Raphael Knetsch also supported me as lighting technicians. I would also like to thank the musical director Julius Trautvetter for his confidence in my work and for his great commitment to the entire production."
Photo: © Tino Wichmann / Mikko Rahf / Vivie Ann