LeRoy Bennett and Jason Baeri mastermind MTV platform design, 387m over Manhattan.
Canadian singer producer, The Weeknd, was one of a number of artists performing at unusual outdoor settings in Manhattan to mark the 2020 MTV Video Music Awards.
His designated location was the rooftop of the new Edge observation deck at Hudsons Yard, 387 metres high, and consequently the highest in the Western Hemisphere. This presented challenges for lighting designer LeRoy Bennett and his long-serving collaborator, Jason Baeri; but with the help of GLP's X4 Bar 20s, The Weeknd gave a dynamic rendering of Blinding Lights, the song which earned him gongs for Best R&B Video & Video of the Year.
Bennett worked closely with La Mar Taylor, The Weeknd's creative director, to come up with the concept. GLP's award-winning battens not only lit the stage platform but also lined the perimeter of the building's triangular balcony architecturally. Wearing his signature red suit, black gloves and the bloodied face featured on the After Hours cover, the staging was in stark contrast to other artist sets featured on the show. "Where most relied on XR technology, [our concept] used no special effects; there was nothing virtual, it was all real." But it had been an intense shoot.
As for the deployment of the X4 Bars, he said, "I liked the idea of a linear light and the X4 Bars were used to outline and define the space itself, to accommodate the helicopter shots from above. They also worked really well as keylights."
Everything was run in white, with extreme brightness due to the nature of the event. "We created a sheet of white light, which did accents and beams, to enable [the effect] to read to camera through the smoke. We didn't go crazy with the functions."
But being virtual guinea pigs for this new location threw up issues of power requirements, and the weather variables. As the man on site, it was left to Jason Baeri to deal with the logistics, knowing that the licence to shoot the fireworks had only been granted for the second of the two designated nights, which is when the storms hit."
One of the most perilous projects LeRoy Bennett has taken on in his long career perhaps? "Well I have done enough crazy things in my life," he laughed. "Having Jason there gave me complete confidence … he's worked with me a lot over the years and I have total faith. The difficult part was dealing with the restrictions of the environment and politics of the building with the Covid side." There was an area on the platform for audio, lighting and cameras. And in addition to the helicopter overheads there was a camera jib mounted on a platform, and additional handhelds.
Baeri, who directed the show from a rover on the deck itself, took it all in his stride. "No one had worked on the Edge platform before as it was only opened for the first time a week or so after our shoot. Like most architectural non-performance spaces, you have specific considerations to not damage the space, but they were extremely accommodating." He agreed that the most challenging element had been facilitating the helicopter shots. Despite a day of previs he admits, "you could only guess what the shot would look like from a helicopter… it can be anywhere at any time! So things like fans or geometric dimmer chases would work from one angle but not another; therefore, we had to be crafty with how we approached the looks."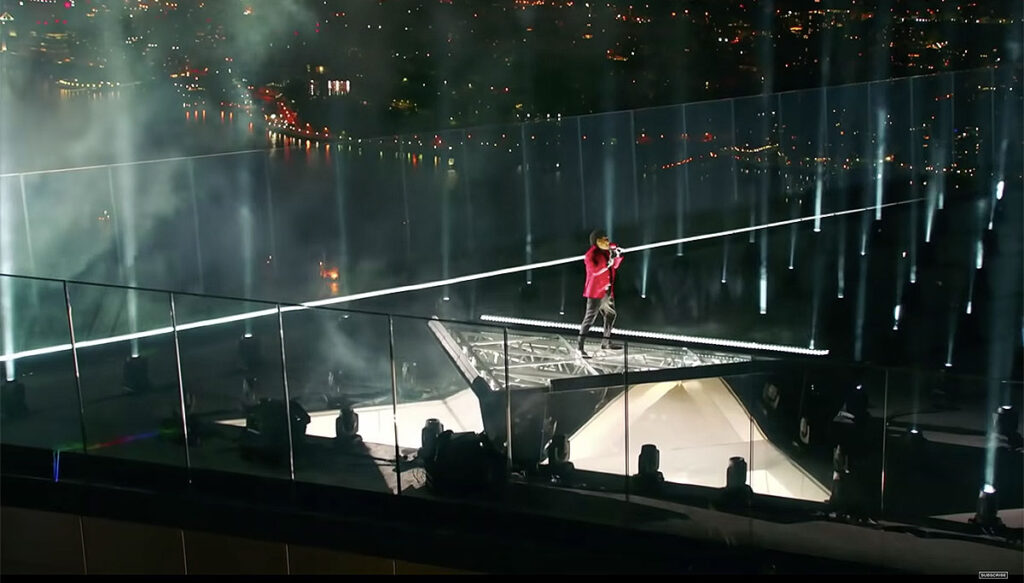 In this respect he also paid credit to Lauren Quinn in the process. "She is a brilliant director so there was never a shot that we had to adjust from a lighting perspective because of camera placement."
As for the X4 Bars, they were run in 88ch mode from a grandMA2. "We had them in pixel mode and they had sweeps/wipes going on, but their strength in this particular performance was really as an architectural element." He agreed that with regard to the helicopter shots, "the fact that we were in the air wouldn't have been as striking if [the Bars] hadn't been there."
Describing the weather on the second day, he notes, "We got shut down a few times for wind and lightning. But our brilliant gaffer Ronnie Skopac, had all the lights bagged and was basically on the balls of his feet all day waiting for the wind to die down. And of course right when the wind alleviated the rains came." Only around 11pm, an hour before the shooting cut-off, did the clouds part "and like a team of angry worker bees the team went out, unwrapped and powered up the lights, the choppers took off and we got the shot with the fireworks in one take, dead on and just perfect!"
Summarising the huge impact the X4 Bars gave to this unique show, he concluded, "I've said before that the X4 Bars are such a wonderful fixture because of just how dynamic they are; it's this beautiful combination of architectural [usage], because of the way the sources look on camera, and this brilliant beam of light that can either cut through the space like a razor blade or wash the room in brilliant swathes of light. We've been speccing them for years because we know every time we do, they will perform just like that. It's one of the most valuable and consistent tools in the arsenal."