The Wonder Years' November livestream was a homecoming of sorts, not only for the Top 20 alt rockers, but for Victor Zeiser who lit the 90-minute show. "This band is one of our oldest clients, so working with them again was a real thrill," said Zeiser, the owner of Squeek Lights. "Earlier during the pandemic, the guys did a more-low key livestream at a recording studio, but they decided they wanted to cut loose and do a full production show, so they came here to the Ruby Stage in our new facility."
Drawing on the power-packed and versatile rig at the new Ruby Stage (it opened this summer), Zeiser and the Squeek Lights team delivered the kind of dynamic show the band was seeking. Wrapping itself around The Wonder Years' distinctive sound, the lightshow reflected the mood and spirit of the music with its colorful crossing beam patterns, intense side lighting, and evocative silhouettes.
Playing a key role in creating this supportive vista was the rig's 30 CHAUVET Professional Rogue R1 BeamWash fixtures. "They did a lot for us," Zeiser said of the 40-watt RGBW movers. "Their most critical use was as our key light. Silhouette moments are great, but people want to see the band. With the 10 units out front we were able to hit them with a nice quality white light, which looked great on camera.
"We also used BeamWashes for mid-stage down washing, back washing from our upstage wash, and on tail-down pipes upstage," continued Zeiser. "We love the versatility of the beam washes in the rig. It's great how such a small unit has so much punch when used as a wash; and then on the flip side, you can zoom in so narrow to have a tight bright beam that can cut through a big look."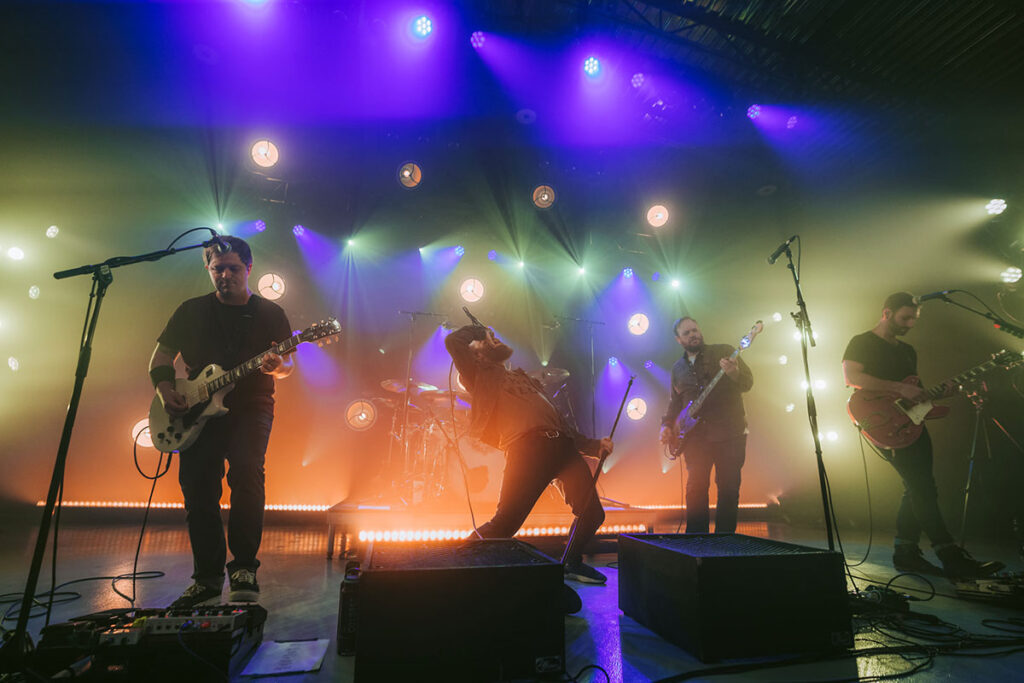 Given the show's livestream format, Zeiser had to limit his use of big, sweeping movements and rely more on color combinations and overlapping patterns to engage viewers visually. "For a live stream, it's all about what the folks at home see," he said. "I made sure the film crew gave me a monitor, so I could see what the viewer saw. I was careful to ride my levels more than I typically do on a live show. I also throttled back some fixtures that I otherwise would have let ripped – and exercised a little more care with my color selection, knowing that the camera doesn't read all colors the same way our eyes do."
Contributing to the success of the livestream were the Catalogue Company, which filmed the performance, Andy Clarke, who did the mixing, Electro Sound Systems of Wilmington, DE, and Ben Jarret, who helped Zeiser with the showfile.
The Wonder Years livestream was Zeiser's first show of 2020. (He spent much of the year working on Squeek Lights' new facility.) "It was a lot of fun to jump back in the saddle for the night," he said. "Ben Jarrett was a big help with the showfiles, so I got to focus on mashing buttons with the music of The Wonder Years, which I know like the back of my hand. The entire experience with my crew and the band was special — a taste of 'normal life' that reminded me why I love this business so much."
Photo: © Michelle Baumval