Amsons Audio installs K Series to fulfil Reverend's ambitious plan.
Love of Christ Generation Church has a rich history, founding multiple locations and fostering a forward-thinking faith in the UK and Africa. Its most recent congregation, opened this September, is a newly built cathedral on Landmark Beach in Lagos. The impressive, modernist building can accommodate 5,500 worshipers across its two main spaces to host church services, choir practice, bible classes, and more. Ghana-based Amsons Audio was contracted to design and install the audio-visual system for this striking new building. The contract was the company's first major project in Africa, and owner Eben Awuah knew it demanded a no-compromise approach. He centred his audio system around L-Acoustics K Series loudspeakers to ensure the church would have the highest quality.
"My business partner, Charles Amoah, and I were in Abuja consulting on one of the biggest churches in Ghana when I got a call from Reverend Mother Abimbola Esther Ajayi, founder of Love of Christ Generation," says Awuah. "She said, 'Eben, I'm building the cathedral. I want you to look at it!'"
Whilst Awuah prefers to be involved early in the process to avoid considerations like the building's acoustics becoming an afterthought, construction was already well underway in Lagos. "We looked at the drawings that had already been produced, and the design was for speech only. The system would be used for music as well, so we knew it would be a disaster," he recalls. "We said, 'Let us design something new and fresh, and we'll come back to you.'"
Awuah and Amoah had worked with audio-visual services company SFL to design and install an L-Acoustics system at the Reverend's London church, so he knew she wanted Lagos to be just like that one. "As well as L-Acoustics being tried and tested in London and certain to fulfil the Reverend's ambition, it's my favourite loudspeaker brand," he says. "And two days after our initial conversation, we were in Lagos, meeting with the consultants and contractors. When we looked around the cathedral, we absolutely knew L-Acoustics would be right for this amazing building."
With the Reverend giving the go-ahead for Amsons to deliver her vision, Awuah put his initial design into Soundvision and came up with what he considered to be the perfect solution for the multipurpose building. Amsons designed the systems for the main auditorium and the multipurpose hall, which is used as an overflow for the main auditorium and other events, and lobbies.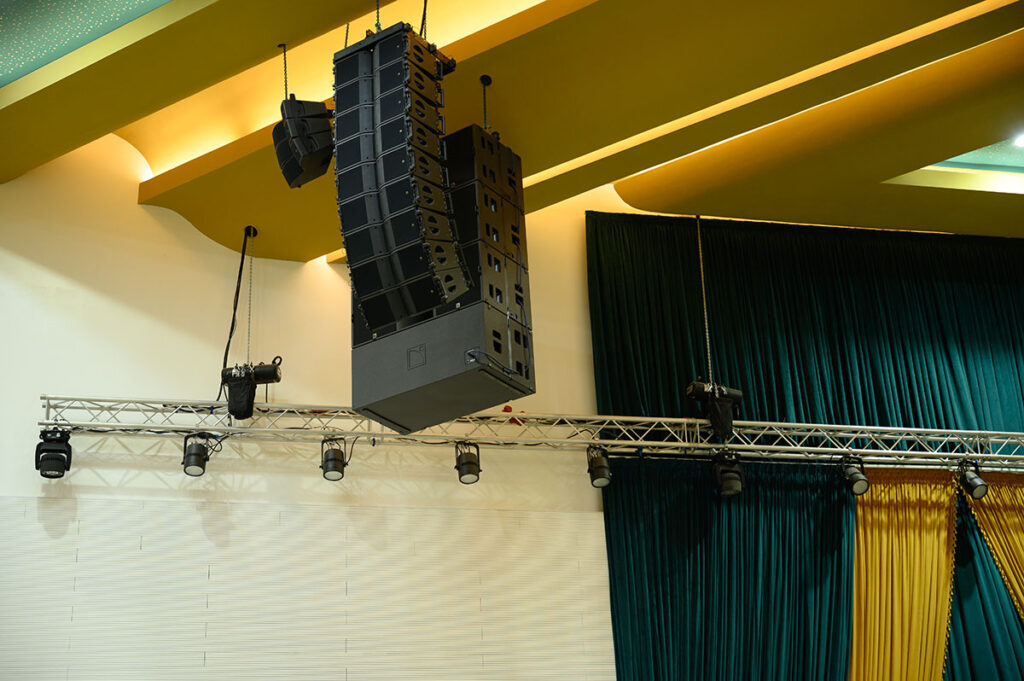 Left/right hangs of nine Kara per side form the main PA in the 3,000-capacity main auditorium, with three Kiva II per side for out-fill and hangs of four KS28 positioned behind the Kara. Four hangs of two Kiva II are used as under-balcony delays, and Syva paired with Syva Low provides front-fill. For the 2,500-capacity multipurpose hall, the main PA comprises two hangs of three Kiva II, positioned left and right of the stage, with two further hangs of three Kiva II for delay. Four X12, two on either side of the room hung from columns along its periphery, were proposed for out-fill. A stack of four SB18 subs was placed in front of the stage with X12 for on-stage monitoring. X8 would deliver audio in the lobbies. The system is controlled by ten LA4X, five LA8, and two LA12X amplified controllers, with a spare of each also provided.
"Within what seemed like a few minutes of submitting the design, the green light was given, and we were packing the system into containers," he says. "We arrived on site in Dec 2019 and were the last contractors to start work."
The installation started in early March 2020, with a rigging crew flown from London to Nigeria. Then the pandemic struck, and in less than a week, they were on a plane home, leaving Awuah, Amoah, and an engineer colleague from Trinidad in Lagos as the only people on site. This remained the case until October, and by the time the other contractors were allowed back, the Amsons team had completed most of their installation.
"We did absolutely everything on the project: sound, which also included DiGiCo Quantum 338 and SD9 mixing consoles and Sennheiser microphones; lighting and video; and the rigging, including doing some intelligent things in the roof to be able to spread the load in the ceiling to hang the Kara and the subs," says Awuah.
Such challenging circumstances and limited personnel meant the project took a year to complete, with the system finally commissioned in April 2021. "The room is acoustically treated, so even though it has marble floors, it still sounds great."
Amsons Audio also provided a system handover for the church's team, including a workshop on LA Network Manager.
"We understand that a lot of churches have volunteer engineers with limited experience, so my policy is that every installation we do has to be as easy to use as possible," says Awuah. "We let the system do the hard work so that volunteers can come in, turn it on, push a couple of faders up and be ready to go for mid-week services, choir rehearsals, bible classes, etc. When it comes to the main services, the experienced engineers turn up, so we give them the ability to have more control. When we turned the system on for the first time, the Reverend was delighted, and everyone there started singing and dancing. That's why we use L-Acoustics."
The Rev. Mother is so pleased with the results that she has asked Amsons to work on her next project in Ghana. "We now have the best speaker system in the whole of Nigeria," she concludes. "And we will soon have the same in Ghana."